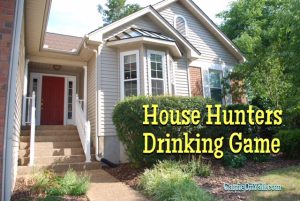 If you're here, you probably read 10 Things I Want to Say to People on House Hunters. If not, you can see that, too!
Drink when the following words or phrases go down in that magical thirty minutes.
Space
Open Concept floor plan
The ubiquitous closet joke (Haha…where will your clothes go?)
Man cave
That carpet has to go
The neighbors are just too close
Stainless steel appliances
Move-in ready
We came for the ocean view
Hardwood floors
Two drink situations:
The couple who wanted historic charm and character buys a new construction McMansion
The real estate agent clearly rolls his/her eyes at the stupidity of the couple.
The couple factors their dogs' needs and wants into home buying (i.e., I LOVE this house, but I'm pretty sure Fluffy wouldn't like the carpet on the staircase)
The couple factors the need to store some giant off-the-wall collection into their new home (i.e., This is a great house, but I'ma need at least 1500 square feet for my wine collection and she needs another 800 SF for the ceramic figurines that come to life in the middle of the night)
The couple moves "to the beach" but they really buy a house that could be in any suburb in America that is somewhat near the beach
Cheers! Enjoy House Hunters, y'all!