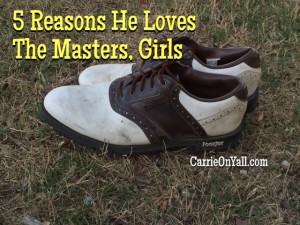 After extensive research (my friends and their husbands), I've come to the very unscientific conclusion that most women don't like golf. Before all you golf club-toting divas pin my ears back with how much you love golf, let me say…I love it, too.
I don't enjoy playing golf…I'm way too impatient to have ever been any good, and because I have three children who would be about as welcome on a golf course as a drunk heavy metal band turned all the way up, I never play anymore.
But, each year as the first full week of April rolls around, my mind drifts to Augusta, Georgia and the joy and drama and incredible back-stories that inevitably ensue. I love and respect the game of golf, and the Masters is golf at its very best, y'all.
But ladies, you've come here for answers, and I'd like to give them to you. Here is why, during the first week of April, your husband/boyfriend/brother/and every other guy you know grabs many beers, many friends, and glues himself to the TV all weekend. Let him. Or even better…join him!
Here are 5 reasons he loves The Masters, girls:
The Drinking/Camaraderie. In Guy Land, The Masters is like a national holiday, an excuse to leave work early on a beautiful spring day, head to the bar with your buddies, and watch the best golfers in the world do something you could never do. Professional golfers are that good. (Remember when Mr. Miagi killed a fly with chopsticks? Like that.) And when they sink a 50-foot putt or drive the hell out of the ball down the middle of the fairway, you may as well raise a glass to that kind of awesomeness.
The Great Equalizer. Anyone can play golf. Golfers don't have to be the youngest, fastest, tallest, or strongest people on the Earth. While professional golf is just as elite as any other professional sport, even the world's best athletes in other sports can be humbled on a golf course. What this means in your favorite guy's mind is that he could go out on the golf course with Michael Jordan, Peyton Manning, and Derek Jeter…and have a chance. He might actually be able to hang athletically with these incredible icons. And that's pretty cool.
The Yelling Dream. When you watch golf, you'll see that there are people around the putting green whose job it is to hold "Quiet" signs (it is one of the ways I've conspired to attend the Masters…holding the "Quiet" sign). Golfers ask for silence while they're putting, but all bets are off once they've hit the ball. There is always one idiot in the crowd who yells, "GET IN THE HOLE!" as the ball is rolling, and you can rest assured that your guy has dreamed of being that guy.
The Back-Stories, History, and Tradition. Augusta is where heroes are made. Old favorites like Arnold Palmer and Jack Nicklaus paved the way for new amazing talent such as Jordan Speith and Rory McIlroy. Of course, Tiger Woods was revolutionary for golf in every sense of the word. If you don't feel a little gut tug of emotion when you see a man earn his first green jacket (or re-wear his green jacket that's been hanging at Augusta for a few years), then you might not have a soul. Check out Wikipedia's page about The Masters…it's actually pretty amazing.
The Green Jacket Dream. My husband dreams of the purse money. How amazing would it be to earn over $1.6 million…in one weekend…for playing golf? My brother-in-law has a yearly golf game with his college buddies in which there is a trophy AND a green blazer that they pass to the winner each year. Men everywhere dust off their golf shoes, pull out a polo, and hit the course when spring weather and the promise of golf glory beckons them outside. It's a good thing, and men everywhere are inspired by the possibility of golf greatness.
I'm a sports-lover from way back, so I hope that my translation is working for you, y'all. You don't have to understand all the rules of golf, but I'm sure your favorite guy would love to explain them to you. You don't have to be a great golfer yourself (hardly any of us are). But if you sit in front of the television long enough and see the magic of The Masters, you'll understand. It's a pretty amazing thing.