Have you read my previous posts on "How to Be a Wheel of Fortune Contestant"? If you'd like to read this story from the beginning, check out Part 1, Part 2, and Part 3.
I left Round 2 of tryouts in a Knoxville hotel ballroom not knowing if I'd made it to the show or not. Like a vague high school flirtation, I was afraid to appear too eager but dying to know if they really liked me.
About two weeks after Round 2, I received a phone call from a California number as I was driving home from work, and the producer on the other end asked if I could be in LA in two weeks to be a contestant. Y'all, I had to pull over.
She asked if I accepted the chance to appear, and I said YES (maybe a little too loudly). She asked if the date was acceptable. I told her if she'd asked me to be there on Christmas Eve, Santa and I could've made it work. She laughed as she emailed the specific instructions and said she'd see me in LA.
She'd see me…ME…in LA. On the side of the road, I let out a huge whoop of excitement, which scared my children in the back seat and made them cry.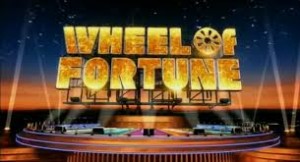 I called my husband. I called my parents. I called my 92-year-old grandmother who never ever missed an episode. We were not, under any circumstances, to call her between six and seven p.m. because she was watching Wheel of Fortune and Jeopardy. I asked if she would like to go with me to LA, and she accepted without hesitation.
WOF contestants are allowed up to four guests to the show's taping, and WOF books a specific Culver City hotel which is close to the studio for all its out of town contestants (there are often California contestants who try out and go home the same day).
Before I get to the good stuff of actual taping and competing, here are a few facts you might find interesting:
WOF tapes one week of episodes in one day.
On each day of taping, there are fifteen contestants (five shows, three contestants each) and two alternates from the LA area in case someone gets sick or has an emergency. Alternates are guaranteed to be chosen as contestants at a later date, even if they don't compete that day.
The producers choose the three contestants who compete against each other, but the standing position (red, yellow, blue), and the day the show will air are drawn at random.
Ever seen the movie Quiz Show? After that 1950s incident, all game shows are required to have an auditor there to ensure that neither the show nor the contestants are cheating.
We taped our show with a Christmas theme in September, and it aired the day before Thanksgiving. It was odd to see Christmas stuff that early.
We went down to the set and actually practiced spinning the Wheel, calling letters, and using the letter board before we had to actually go live. We were allowed to watch the other episodes being taped while we waited.
We taped promotions to be a Secret Santa for someone at home. It was very, very awkward (for me, at least), and the producers assured us that everyone in our local viewing area would see them. We also taped a "local contestant" promo for our hometown television stations that run WOF. Also unendingly awkward for me.
No cell phones or photography were allowed for contestants, and audience members were not allowed to have cameras inside the studio. The penalty was being asked to leave, so obviously no one wanted to risk it.
Our families could see us warming up on the stage, but we were not allowed to communicate. Families were seated far away from the contestants while we were in the audience together.
Ready to get to the actual show's taping? That'll be next time, the final installment of "How to Be a Wheel of Fortune Contestant."
Thanks for reading, y'all. You can also follow me on Facebook, Twitter, or Instagram.