Dear Future (and Past, and Present) Husband,
Yesterday was our ninth wedding anniversary. Nine years ago, we were married outside, in the South, in the oppressive heat and humidity. Our families, our friends, and relatives we had never heard of arrived in droves to see our impending nuptials and silently judge my choices of color, decor, and finger foods. There was no Pinterest back then, and you can thank your lucky-no-bridezilla-stars for that.
I'm no Meghan Trainor, but since we're already married, I wanted to write to you from the past, present, and future. Consider this my little anniversary gift to the best husband in the world.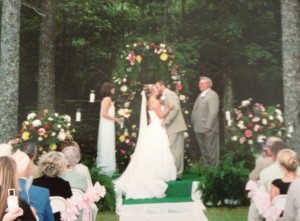 Dear Past Husband,
All I knew when we said "I do," was that we would figure the rest out.  When we met, I felt that God and the universe had finally sent me the other half of my soul. I knew that when I was flighty and emotional, you'd be focused and level-headed. I knew that when I had a bad day, you would say something in your deadpan humor, and I would laugh my head off instead. I knew that if you ever took the world too seriously, I would do my best to remind you that the most important things in our lives were right there under our roof. I knew that we would make smart decisions about the future together and be best friends even when we made each other so mad that one of us needed to leave the room.
I also knew that it would be okay when I handed you a positive pregnancy test only four months after our wedding. I knew we had to lean on each other through the confusing heartbreak of two years of miscarriages when we tried to conceive our second child, and though I would never want to relive that time, I know it brought us closer in ways that only couples who have been there will understand. I didn't know what an amazing father you would be, but you held those babies (including the surprise third baby!) in your hands and fell in love with them, and I've never seen anything so beautiful in all my life.
Sweet Past Husband, we were young and dumb and in love, but saying yes nine years ago was the best decision of our lives.
Dear Present Husband,
Life is crazy now, isn't it? Our three little kids are loud and busy and messy and nuts. But it is such a beautiful life. I had no idea that staying at home with them (while it presents its own challenges to my sanity) would be the best gift you could have given me. I am so proud of you that I can barely hold it all in. Everything you do is for us, and you handle it all with humor, grace, intelligence, and patience.
We've got this. We do so many things right, and even when we're wrong, at least we're trying and together. When I see our most recent family pics, I can't help but smile. Once again, it was June, it was hotter than three hells, and the kids were cranky and ready for the ice cream we promised them if only they would smile and not be too annoying. I think we're like these pictures…not perfect, but trying, doing the best we can, learning as we go, and hoping we aren't screwing up too badly. Present Husband, I love you yesterday, today, and tomorrow.
Dear Future Husband,
I'm not sure what really constitutes the "future," and when you will go from "present husband" to "future husband," but I can tell you this: we're a good team. I am excited to watch our children grow up together, excited to see how we handle tweens, teenagers, college kids, and growing older ourselves. You're moving up in your job, and maybe I might be a "real" writer someday. But whatever happens, I'll be there. I love my front row seat in our family's story.
Someday, we'll probably take more hotter-than-three-hells pictures in June. Maybe our kids will be grown. Maybe one of us will be holding a grandchild or two and their spouses will be there, too. Maybe we'll be a little wider, a little grayer, a little wiser. And I'll think back to the day when I said I would love you forever, "to have and to hold from this day forward, for better, for worse, for richer, for poorer, in sickness and in health, to love and to cherish, as long as we both shall live."
Nine years ago, I made the best decision of my life, and I would say yes again in a heartbeat. Even in June in the South.