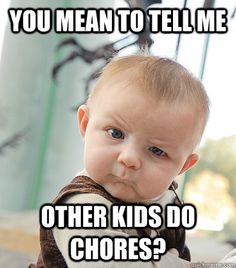 At our house, summer boredom, screaming fights, messy everything, and me somehow acting as mediator/maid/short order cook has caused me to reevaluate how I wanted to spend the summer with my three kids.
First of all, let me be clear. I'm NOT a Pinterest mom. Far from it, actually. I love and admire those organized, super-creative, organic-food-making Pinterest gals, and I have a dutifully diligent Pinterest account of all the things I would do if I weren't such a mess, but I can't keep up. But I also needed to take action so that my kids and I weren't just surviving summer but actually enjoying it.
So I've created three ways that (I hope) will help my kids and me enjoy the summer, stay busy, help around the house, and maintain my sanity for once.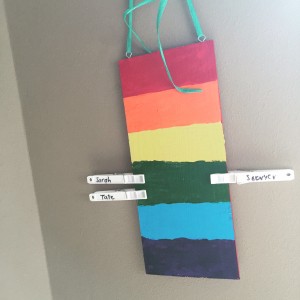 1. The Behavior Chart. I totally stole this idea from Sarah's kindergarten teacher. Every day, the kids start on green. Good behavior helps them move up, and making me want to end it all by 3pm moves them down into the blue and purple. I like it because it doesn't require reading, and the kids have many opportunities to move up and down throughout the day. My 8yo and 4yo have responded beautifully. Still working on the 2yo and the positive and negative consequences for how the kids did overall each day. I found this piece of wood that is thin and about 12 inches x 6 inches at Hobby Lobby and stole Crayola paint from my daughter to paint it. She even helped me! (If the lines don't look straight, that was totally her fault.)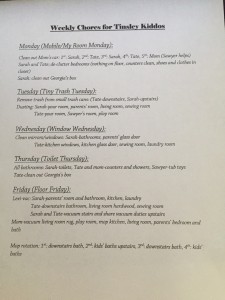 2. Weekly Chores. I'm a crappy housekeeper, and having all three kids home for the summer increases the likelihood of messes, which increases the likelihood that my sanity will be down the toilet by the end of July. More dishes, more laundry (how is that possible?), more opportunities throughout the day for chaos. I need help, I thought, about 15 minutes into summer vacation. And then I saw three bored kids who needed something to do.
There is no fancy presentation here (chevron scrapbook paper, anyone?), but I'm just not a fancy presentation kind of gal. We've gone with the lovely white printer paper and Microsoft Word document. Hey…just preparing them for corporate America, right?
The weekly chore chart may not be easy to see in the picture, but each day has a theme with chores to go along with the theme. I wish I could take credit for this, too, but it is totally stolen from a mom in my town who homeschools her children (and I can't remember her name!). She made a presentation to a group I was in, and she was so organized that I wanted her to homeschool me.
The daily themes (in case you can't see them on the tiny picture) are:
Mobile/My Room Monday (cleaning out mom's car and kids' rooms)
Tiny Trash Tuesday (dusting and emptying trash cans)
Window Wednesday (mirrors and windows)
Toilet Thursday (bathrooms)
Floor Friday (sweeping and mopping)
I adapted these from her (super-wonderful-and-organized) list to things we needed at our house. Voila.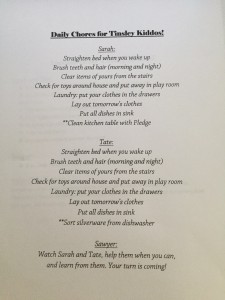 3. The Daily Chores. This is another adaptation from the super-awesome homeschool mom. It's a basic list for each kid of what they should be doing each day, preferably before my husband gets home from work and starts wondering why the house is such a wreck since we've been here all day. I'm holding the kids to their weekly and daily chores (theoretically) with the rainbow behavior chart, too. For some reason, the thought of moving below green has them behaving better. Yes, yes, I will take it.
The kids seem to like this idea, and I'm giving them a small allowance, not just for existing, but because they've earned it by helping me around the house. They also love rewards like trips to the frozen yogurt shop, dates with a parent, and family outings like bowling, fishing, and the park. We do these things as a family anyway, but if I can get a little housework out of them while I'm at it, I'm totally going for it.