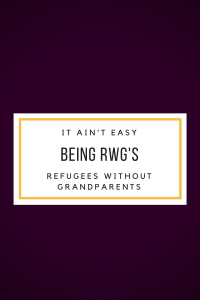 We joined the RWG's back in 2013 when we moved from middle Tennessee, a mere hour and a half from our three sets of sweet grandparents, to central Arkansas, where those same grandparents who easily made day trips to see us and drove home to sleep in their own beds…must now drive 7.5 hours one way to get to us.
It ain't easy bein' RWG. I'm pretty sure there's a hit rap song in there somewhere.
Jeff and I learned, very early on in parenthood, that we needed Mom and Dad time in the form of "someone else serves the chicken nuggets and plops the kiddos into bed while we go out to eat, drink a few, and see a movie or hear some live music." When I taught high school English in Tennessee, I had my pick of lovely young teenagers who just couldn't wait to take care of my kids. I'm sure they enjoyed the subterfuge of peeking behind the curtain of the Wizard of Oz…what does my English teacher's house really look like? Is she really that bad a housekeeper?
But, even better (read: free)…sometimes the grandparents would just pop down the road and watch the kids so we could have a free night. Yep, those were the days.
This no longer happens. For sanity maintenance purposes, we have amassed a few uh-maze-ing teenage girls who are more than willing to let us go out every once in a while to a party or to dinner, and we call on them whenever there's an event or we need a break, but that, friends, gets expensive.
The powers that be don't tell you that, when you relocate far away from your family, you should build babysitting funds into your budget. In actuality, your babysitting budget should be on page 2 of the relocation handbook (page 1 is all "sell your house," "there are nice people everywhere," "your spouse will not be the enemy forever," etc.). Good babysitters are gold, and we pay them well. I mean, clearly we're not leaving the kiddos with just anyone…
BUT…having nearby, willing-to-take-the-kiddos-whenever grandparents…that's the nirvana, the utopia, that planet I would totally exploit if only they were closer. Sadly, our grandparents are WILLING but no longer NEARBY. You see the dilemma.
To that end, here are a few things you should absolutely not EVER say to RWG's…just…ever.
I just dropped the kids with Nana and went to the grocery store for an hour.
Mamaw just called and asked if she could take the kids for the night because she missed them so much. She's even taking them to school in the morning so I can sleep in!
Granny just handed us a gift card to a restaurant she doesn't like and said to drop the kids off while we went. Isn't that awesome?
I wish my MIL didn't ask to have the kids every.single.weekend. I mean, we're their parents, and we love them, too!
Man, my mom came over and did all the laundry in the whole house while we were out on a play date, but she didn't put it back in all the right places! So annoying, amiright?
How can you spot the RWG's? Not as hard as you think. They're those crazy gals toting all the kids for a huge trip to the grocery store at 4:30pm on a Monday. They're the glassy-eyed couple at Chuck E. Cheese every single Friday night instead of a nice restaurant every once in a while. Or they just…stay home, watching Nick Jr. and wondering what the grandparents are doing right now.
Please don't get me wrong…I ADORE my kids, and (I hesitate to even type it because the unicorn with Santa and the Easter Bunny on its back could run away at any moment) they're getting easier and more fun all the time. However, there are just some times when a break… where we aren't paying a sitter by the hour…would be nice.
This is not a permanent issue. I'm absolutely not begging for free babysitters or regretting a move that has been so good for our family…it's just…different. So great in so many respects, and somewhat harder in others. If I'm sick, it would be nice if a grandparent could come help without having to drive an entire day. If we're invited to a party and our arsenal of babysitters is busy, it would be great to have a free backup plan.
But, if you see an RWG out in the wild, give her a smile of encouragement. Today might be the last-straw-day-she-needs-it.