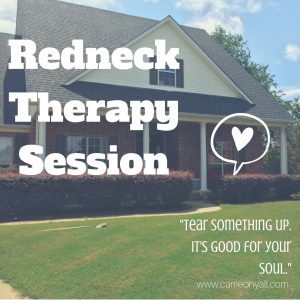 People handle stress in many ways…some see counselors or therapists, some exercise, some drink or do drugs. Some people talk about their problems, and others lock their pain away deep inside. To relieve stress, I write, cook, or do something crafty (sometimes with a drink in hand)…  But sometimes I make questionable decisions to lighten the stress load. This, friends, is the euphoria of redneck therapy. I'll explain.
As a stay-at-home mom, I look forward to play dates, especially now that I only have my 3yo at home, while his big sister and brother are at school. Play dates are just as much for the moms as they are for the kids. I don't really worry about Sawyer and other kids getting along…let's be honest. Can I hang with the mom? That's the litmus test.
I love to watch my kids fight…I mean play… with their friends, and clink coffee mugs with the other mom as we tell them to "work it out" and "take turns" and "SHARE!" and "we have to leave if you can't be nice!" Hint: We aren't leaving. Mama needs some girl time.
My friend Amanda and her daughter Maggie came over on a Friday morning to hang with Sawyer and me. Maggie and Sawyer play well together (like a good boy, he lets her drive the Ninja Turtle jeep). Amanda and I never stop talking.
The kids wanted to ride bikes in the cul-de-sac on a beautiful day, so out we trudged with coffee and lawn chairs to sit in the driveway, much like King of the Hill.
"Why the lawn chairs?" Amanda asked. It's a reasonable question. We have a perfectly lovely front porch, ideal for sitting and talking on a beautiful Friday while the kids played. Except for one thing: the bushes.
"The bushes. Oh my gosh, the bushes. I hate those things," I replied. "If you're sitting on the porch, you can't see the kids playing in the street because the DAMN BUSHES ARE TOO TALL."
The bushes have been a thorn in my side (figuratively AND literally) since we moved into this house three years ago. They grow like that South American kudzu that covers most of Mississippi…fast and everywhere. Pruning them is terrible…we have a power pruner-thing, but I really believe a chainsaw would be more effective.
Amanda studied the bushes. She circled around them, kicking at their powerful stalks that had probably been planted in 1997 when the house was built and have been annoying its homeowners ever since.
"Hm," Amanda said, with a wicked gleam in her eye. "I bet we could take those out…if you want to."
"Yes," I agreed. "Great plan. Let's do it." For the record, no alcohol had been consumed, y'all. It was only 9am. Also for the record, both our husbands were out of town and unavailable for consultation.
God bless YouTube. You can ask YouTube how to do anything, and some crazy person has uploaded a how-to video. Amanda and I huddled around my iPhone, watching redneck after redneck after seemingly-normal-person tie huge chains or straps around offending bushes, attach them to their trucks, and drag them out of the ground and down to the road.
Four seconds later, we had Maggie and Sawyer strapped into their car seats and were on our way to steal her unsuspecting husband's truck from their driveway. We also grabbed a huge industrial strap from her brother-in-law's supply company, some Happy Meals for the kids, and returned triumphantly to my driveway.
My neighbor Larry came home, inquired as to our shenanigans, and promptly asked to drink beer in a lawn chair and watch. We said, "Sure, invite all your friends." Thankfully, Larry returned to work and to my knowledge, we haven't appeared on America's Funniest Home Videos.
We deposited Sawyer and Maggie with their food in front of a movie and were off, backing the truck into my yard with unmatched precision and the dream of watching children play from the comfort of the porch.

Y'ALL. It was FUN. Amanda and I never stopped talking and laughing. We took turns driving the truck and experiencing the sheer joy of ripping a 20-year-old bush out of the ground with nothing but an industrial strap and some low-gear 4-wheel drive. It was magical.
Just as the last of the bushes came out, my husband Jeff called to ask how the day was. Neighbor Larry had forwarded him the video of Bush the First, and he was unsure if we were under redneck terrorist attack or if it was an elaborately staged joke.
"No, honey," I replied. "We're pulling the huge, terrible bushes out. All of them. We're going to sit on our damn porch with a cocktail and watch our kids play in the street like real Americans." He asked if we'd been drinking (NO!) and hung up on me. (He's used to crazy on the other end of the phone.)
The aftermath of pulling bushes wasn't quite so pretty. Sawyer and Maggie poked their tired, needing-naps heads out the front door, saw what we were doing, and went back inside. A short rain shower pelted us, creating lovely mud holes where the bushes once were, and we spent a long time hand-chopping a bush that might have destroyed our sewer system had we ripped it out with the truck. We cussed that bush and its cursed proximity to the sewer drain, but even that was therapeutic.
Today, our yard survived and looks 1,000 times better. And yes, I've sat on that very front porch, typing this essay, with my morning coffee.
Friends, there is nothing like a redneck therapy session. If you're feeling blue, if the weight of the world is dragging you down, or if you just need a little kick-start…let me recommend stealing your friend's husband's truck and ripping out bushes. Or flowers. Or trees? I dunno. Tear something up. It's good for your soul.
And if YOU have any redneck therapy stories, I would LOVE to hear them in the comments!
Thanks for reading, y'all! If you'd like to read more of my misbehavior, you can follow me on Facebook, Instagram, or Twitter. And of course, you can subscribe!