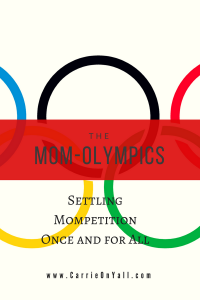 Okay, moms, you know it's out there. Mompetition. It's a noun. It's that guilt, that urge you feel when someone is mothering their little progeny better/craftier/more patiently/cuter/WTH…did they just step out of a magazine…than you are. Mompete is a (sort of) verb. It's the time when you choose to craft/cook/volunteer/say yes…against all better judgment because you don't want to look bad in front of the other moms.
I say…screw mompetition. Let's settle this once and for all. I'm holding the Mom-Olympics in which qualified mothers will duke it out for the coveted title of "Greatest Mom in the Universe." I'm holding the Mom-Olympics. 10 events. 1 winner. Step up, girls, if you think you can.
1. The Organic Food Competition: Any contestant whose baby points at McDonald's when you drive by or has ordered anything from a speaker and a cashier in a window in the past two weeks is ineligible to compete. Further disqualifications occur when your children identify mac n cheese, chicken nuggets, or hot dogs that weren't raised in an organic farm.
2. The Straight-from-Pinterest Birthday Party. If you've ever spent over $100 on decorations for a birthday party you saw on Pinterest that your child has no snowball's chance in hell of ever remembering beyond the professional photographer and videographer you hired and the memory chest of birthday cards and presents you lovingly compiled after the fact and plan to give her for her 18th birthday…this event is for you. Pinterest away, girls, but only one mom can reign supreme.
3. The Humble-Brag Mom-Petition. Isn't it SO ANNOYING when your ballerina/piano prodigy/genius asks you a question about astro physics in French? And I think Gertrude Arabella may have just discovered the cure for burping with a Q-tip and a Barbie car. Isn't that crazy? Yep, humble braggers…out-do the cure for burping…by a 3yo. BAM.
4. The Mom Fashionista. No more "mom jeans," ladies. Get out your yoga pants, your cute leggings, boots, tunics, and Lululemon workout gear, and strut your stuff on the Mom-Olympics catwalk. You have to look like you have it all together AND you haven't lost that cute fashionista touch from your 20's. Good luck, girls.
5. The Mom-Suit Competition. Ladies, surely you didn't think you could get away without shaking your moneymakers at the swimsuit competition. It's like Miss America. You'll be in  heels, your mom swimsuit, and be serenaded by a middle-aged pop star as you parade across the stage, pose, go up and down stairs, and expertly apply 150 SPF sunblock to your children's entire bodies in under a minute.
6. Breastfeeding Mompetition. Last year's winner was nursing from one boob, pumping from the other, wiping some kid's nose, and refereeing the play room antics…at Chick-Fil-A. Top that, girls, and you can take home this trophy.
7. Bento Box Surprises. Let's be honest, ladies. Cutting the crust off your kids' sandwiches is SO 1985. Get creative. Does your child have a favorite cartoon character or bedtime story? You should totally make those characters out of food. It won't traumatize your kid at all to be at daycare and be forced to eat the baby bunny from Goodnight, Moon. Again, bonus points if your kid has no chance of remembering this Herculean effort.
8. The Elf-on-the-Shelf Throw Down. It's on, people. What kind of mischief can YOUR elf create? What? Your elf gave your kids tickets to Disney World on December 6th? Some people may not appreciate your EOTS effort, but if you're going for the gold in this event, you better bring the A-Game, biatches…from Thanksgiving to Dec. 24. Thirty days of awesome.
9. Create a Kid Craft with Glitter That Doesn't End in You Cussing and Drinking Wine. You're a candidate for Greatest Mom in the Universe, for God's sake. You can do this. We've all heard it said that glitter is the herpes of the crafting world, but you have to be willing to sacrifice your all…your sanity, your carpet, your furniture, your kids' limited knowledge of "words that only mommy and daddy can say when they're upset…" May the force be with you. You'll need it.
10. The Inclement Weather/Snow Day Competition. In this unique competition, you'll be locked inside a house all day with your children, a jar of peanut butter, a Checker board, and an iPad. The first mother to resort to screen time loses. The longest hold out WINS the competition!
If you would like to nominate any friends or family for any or all of the above-mentioned events, I will be taking nominations in the Comments section and will get back to you about dates and times. The Mom-Olympics will most likely air on local television broadcasting in Arkansas at about 2am in the middle of the summer. Let me know if you're the next "Greatest Mom in the Universe." If you aren't into Mom-petition, bravo. If you are, sign up, and I'll find someone who actually wants to compete with you.