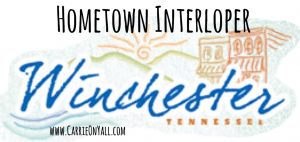 I'm home this week. Not my home in Arkansas where we now live, but back home, in my mom's house in Tennessee, the house where I grew up, with my three kids and my dog. (The hubs is working out of town.) I've visited many times since I left for college in (gulp) 1996, but this is the first time I've really stayed a while.
It's so weird. I'm taking showers in my childhood bathroom and also bathing my kids in the tub. Lexi, my golden retriever, reminds me of my old chocolate lab Sam, two sweet old dogs finding the same sunny spots in the house, lying under the same table in our tiny breakfast room where I snuck scraps to dogs my whole life.
I'm sleeping in my old bedroom this week, staring at the same ceiling I stared at when a boy broke my heart for the first time, where I learned that my parents' marriage was ending, where I literally taped my favorite songs off the radio in junior high and giggled until all hours with my friends who spent the night.
I don't know if you can go home again. Everything is the same, and everything is different. I haven't lived here full-time since I graduated from high school, and yet I find myself falling into old teenager patterns like I'm the babysitter for my three kids instead of their mother.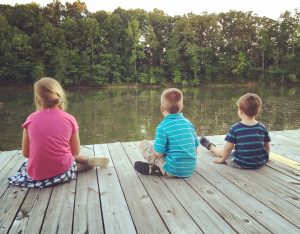 As I drive around my hometown, my car automatically steers itself down back roads that I can't remember knowing, but my subconscious knows them. I even drive faster, reverting back to my speedy, fearless teenage driving until my kids ask why I'm going so fast. My high school building has been torn down for asbestos reasons and rebuilt across town. What was once the geographic center of my world for years is now an odd field in the middle of town.
Town looks different, with new businesses and shades of its former self. The old video and tanning store (yes, under the same roof) is now a law office. The gas station where I bought beer for the first time (underage, of course) has been torn down in favor of a Waffle House. The movie theater on the square still shows the latest releases, but I'm not sure if anyone ever goes there anymore. Buildings that are huge in my childhood memories are actually not so big after all.
So much of my history is here, yet it's daunting. People say things to me and my children that begin with, "I remember when you/your mama did this…" and I can only hope I didn't embarrass myself and that's the only memory this person has of me. We play the "do you know" game and discover vague connections of friendship, marriages, dating, divorce, cousins, and neighbors. It's what we do in the South.
I'm just an interloper here now, and that's okay with me. Some of us weren't meant to stay in the same place our whole lives, and I must be one of them. For now, I'm happy to catch up with people and breathe the past for a while. It's good for the soul.