While booking my son's 5th birthday party at Share.the.Love, I was able to sit down with owner Erin Conner to find out about Conway's newest kid-friendly place to be.
When I hear about something cool my three kids and I can do, we try it. Walking into Share.the.Love Kidsclub, a new place for children and their parents to gather and play in downtown Conway, Arkansas, is a breath of fresh air. Children are giggling, running, playing, pretending, building, and thinking. This place is all about giving kids a place to be kids. Owners Erin and Craig Conner remodeled a historic downtown building into a modern, beautiful 3,000 sq. ft indoor space with a simple three-part slogan: "Play. Relax. Give Back."
The Conners dreamed for four years of a place where moms could connect and children could play. After researching their concept in other cities and conducting demographic studies, they knew that Conway was ready to share the love. Their dream became a beautiful reality in November, 2015 as they opened their doors.
Play.
Share.the.Love provides clean, modern, creative toys and spaces for children. Kids who love to pretend can spend time in the play kitchen or dress up areas. Energetic climbers can scale the huge indoor play structure, sliding, peeking through windows, and scrambling up the ladders and stairs. Budding artists can try their hand with provided art supplies, and kids who feel the need for speed can zoom around the roller room on cars and riding toys built for all sizes.
An important aspect for me (with my three wild children running in three directions) is safety. Share.the.Love is completely contained…kids are free to play in the building AND friendly staff members constantly monitor, play with children, and tidy up. Hands are stamped and checked upon entering and exiting, and Erin or another staff member mans the desk to greet guests.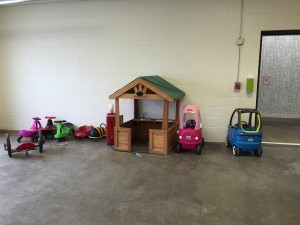 My kids adore the wide offering of toys, and they make new friends each time we visit!
Relax.
Know what goes well with parenting? Coffee. Lots and lots of coffee. Zeteo Coffee is the hip new place for excellent coffee in Conway, and it's conveniently located under the same roof as Share.the.Love. Parents can really relax here. Though it's possible to be a coffee-only patron at Zeteo, the baristas know that parents need their coffee and snacks, too. A convenient walk-up window gives Share.the.Love guests immediate access to all Zeteo has to offer, and parents can still watch their children play.
Zeteo also offers a kid-friendly snack and drink menu (and reasonable prices!), but Erin assures patrons that families are welcome to bring snacks and drinks from home as well. But the coffee? You need the coffee.
There are also parent-friendly seats scattered throughout the building. If parents need a break or want to have a conversation while still supervising their kids, it's totally possible and welcomed. A bonus? 5% of each dollar to Zeteo goes directly to Living Water International, a clean water campaign in Rwanda. So go ahead, grab a coffee and a comfy chair, and…relax.
Give Back.
As we often see, sometimes little things turn into great big amazing things. That's how Erin feels about the Conners' calling to help foster children in Arkansas.
For a while, Erin worked at the play center of Conway Regional Health Center. She loved taking care of the kids while their parents were exercising, and fell in love with a little boy who often came to visit. When she spoke to his mom about how wonderful he was, she learned that he was actually a foster child.
Erin and Craig felt God's calling to bring the little boy into their already-growing family. They immediately began paperwork to foster then adopt him themselves. That little boy, the sweet kid who came to Conway Regional with his foster mom…started something big.
Before Erin and Craig could finish all the preparation and training, that precious boy was adopted by another family, but the Conners' hearts were changed forever. With two boys of their own, they decided to become foster parents and brought home a brother and sister nine months ago.
At that point, some big dreams came together. With four children under six years old, they toured their building in April, 2015 and decided that it was time to officially begin Share.the.Love. At the same time, they knew God wanted them to help foster children, not just in their own home but all over Arkansas, and they knew that their new business was the perfect way to help.
To that end, 5% of every dollar spent at Share.the.Love goes to two non-profit organizations, The Call and Project Zero.
The Call's goal is to "mobilize Christian families to foster or adopt children from Arkansas foster care."
Project Zero's goals are to "Raise Awareness about the need for adoptive families, Build Hope in and Relationships with waiting children, and Connect children with their forever families."
Right now, there are 4,500 foster kids in the State of Arkansas. Erin noted, "If one family from each church in the state fostered or adopted one child, there would be no more Arkansas children left in foster care."
To learn more about how you can help foster children and these worthy organizations, check out their websites, the Call or Project Zero, or just head to Share.the.Love, 911 W. Oak Street in Conway, and sit down with Erin and a cup of coffee.
Erin asserts, "We need to change the negative stigma of foster care. These kids are the silent victims, and God has called all of us as Christians to step up and care for orphans and widows."
Today, Erin and Craig have a thriving new business and four children between the ages of six and two. They're a busy family and loving every minute.
"It's not about us," Erin claimed. "If we don't help, then these kids aren't loved and wonder if they're worth it." The Conner family and Share.the.Love are out to show children that they are loved. All of them.
Disclosure: I was provided services, goods, and/or monetary compensation or this post. All thoughts and opinions are my own.