Halloween is just around the corner, and if your kids are like mine, they've been planning for months what costume they'll don as they zip around the neighborhood ringing doorbells, asking for candy, and being startled by teenagers in gorilla masks.
Perhaps you're a Pinterest mom who is all about having perfect handmade costumes for your kids, or perhaps you're happy to hit up the costume section at Target, but either way, take a little advice from me.
Do a family costume. Get your adorable family together, decide on a group costume, and pull the trigger. Here's why.
The kids LOVE IT. When we wore our family costume, our kids loved the attention we received. We could feel their little hearts pounding as we rang doorbells and proudly announced "Trick or Treat" to our neighbors. Every Halloween is like that, of course, but we got an extra jolt of joy when our neighbors realized we had dressed together as a family and gushed happiness all over us.
You establish your tribe, us against the world. I once met a guy at a Halloween party who was dressed like a deer. His costume was okay. But when his wife showed up in black with a white dotted line down her shirt and stick-on lights strategically placed on her chest, he became a "deer in the headlights." They had established themselves as a duo, and a creative one at that. Nothing says love like dressing up for the people you love, and who could you possibly love more than your own little tribe?
It's different and creative. There are so many possibilities out there for families… Get thyself on the internet, on Pinterest, on Etsy, on wherever creativity blooms, and you'll find amazing costume ideas.
The memories are priceless. To this day, as we drive through our neighborhood to school, the kids point out our neighbors' houses with terms like, "Hey. That's where the old lady said we were so cute, and she made her husband come see us too but we had to wait until he was out of the bathroom." "That's the lady who gave us extra candy because of our family costume!" "I'm pretty sure that guy didn't know who our costumes were, but he still thought it was cool." My kids judge our neighbors based on the quality of their Halloween candy and the intensity of their reaction to our family costume.
The pictures are priceless. I remember that night clearly, but when I see the fuzzy picture my neighbor took of us in our front yard, I know I'll treasure it forever. I will show this picture to my kids' boyfriends and girlfriends, I'll put it on their wedding slideshows, and I'll show it to my grandchildren someday. Our family's calendar features this picture prominently in October each year because I love it so much.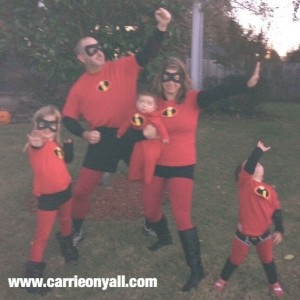 In 2013, our family of five decided to take on the family Halloween costume challenge, and it was my favorite Halloween ever, as a parent or a kid. Our children were six, two and a half, and 5 months old, and we just went for it. On Halloween night, we dressed as The Incredibles, a family of superheroes, and we couldn't have had more fun. My husband wore tights. Tights, y'all. In my "haven't gotten my pre-baby body back" state, I wore spandex. Our kids were freaking adorable, and our little tribe dined out on our Halloween candy stash for quite a while.
Trust me. Family costumes are the best. I can't wait to see all the pictures on Facebook.