Sometimes the planets align just right. Every 75 years or so, Halley's Comet streaks across the sky, and that's my metaphor for my family's night at Miracle Strip Amusement Park in Panama City Beach, Florida.
We drove from Arkansas to PCB in about 13 hours with three kids, a golden retriever, and a cargo topper on top of my SUV. Let's be honest, shall we? Traveling with kids sounds great…until you actually travel with kids. I couldn't possibly list the thousands of potential things that could go wrong on kiddie road trips because, true to kid nature, they could always surprise me with some new form of crazy that no one in the history of the world could've ever predicted.
After we had been in PCB a few days and the kids were sunburned and tired of the beach, we took a break from the great outdoors to stave off the impending meltdowns. Internet research during naptime yielded a potentially good kid-venue…Miracle Strip Amusement Park, not far down the highway from where we were staying.
It was a nice night, and we thought, "Why not?"
Usually when my husband or I ask "why not," we end up wishing we'd stayed home. But not this night. There was something about the breeze coming in from the Gulf that was cool, not the sticky-hot that usually plagues Florida in August. The kids had rested that day and were ready for adventure…not in that annoying kid way but genuinely excited and asking questions about where we were going.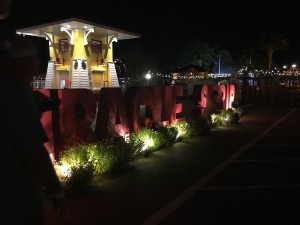 Here are the planets that aligned to give us the Miracle at Miracle Strip:
As we arrived, I wondered if Miracle Strip was even open because we couldn't see anyone. Of course, this stroke of luck turned out to be uh-maze-ing. We arrived at the ticket gate, were reassured that the park was, in fact, open for the evening.
They charged us, a family of five, a whopping $55 for five all-ride bracelets. Yes, you read that correctly. It was a one-time entry fee of $11 per person, and we rode rides all night. We didn't buy tickets. We didn't pay per ride. We paid $11 per person. My husband almost did a dance.
We never waited in line. I cannot adequately express the sheer joy on our kids' faces as they literally ran from one ride to the next, hopping on and off, finishing one ride and believing it was so awesome that they had to do it again right then, and they could.
The concession stand served food, soft drinks, and beer. On a normal night at the amusement park with three kids, I would've taken way more advantage of the liberal alcohol policies, but I was so un-annoyed by my kids that I had one beer while we waited for our burgers and was done.
While we finished eating, the kids played in a splash pad conveniently located in the center of the food court area. We could see them, they weren't annoying other patrons, and we got to sit and watch them play in the water.
We rode the zip line for free as part of the bracelet package. I'm pretty sure they charge extra for zipline rides during the peak-summer, but we just showed our bracelets and zipped down the line.
There were lots of kiddie rides for our two-year-old. He thought he was a big daredevil, and we let him think that. It was freaking adorable.
No carnies were barking at us. It was a low-key night, and while the guys were there and ready to hock their giant stuffed animal prizes and games, they weren't picking us out as we walked by, which I appreciated.
The Miracle Strip staff was professional and kind. Every. Single. Person.
Nothing at all beats riding to the top of the Ferris wheel and being able to see forever…the ocean, the city, the high-rise condos, the restaurants…it was breathtaking.
If you're looking for thrill-a-minute rides for adrenaline-hungry teenagers, Miracle Strip isn't your place. It's an older park, and it's old-fashioned, the way you imagine some of the first amusement parks would be like. But it's still there, still serving families, still providing smiles and gentle thrills. I wholeheartedly recommend it!
Here is their website.
Thanks for reading, y'all! Check out more at Carrie On Y'all, or you can follow me on Facebook, Twitter, or Instagram.